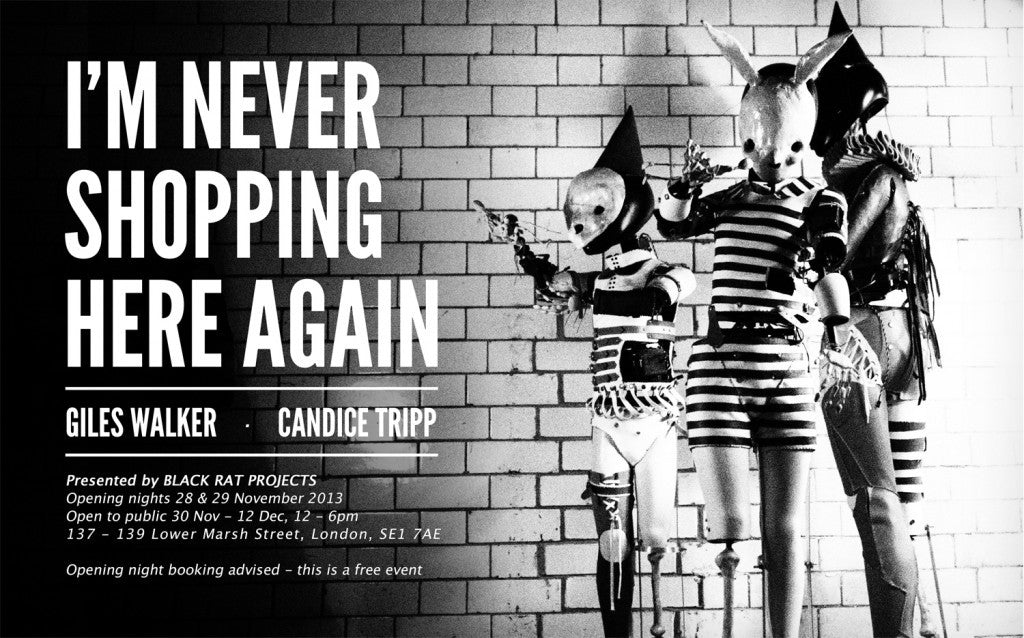 So here you go; a photo to give you an idea of how Giles and I are trying to take our respective dimensions of choice and stitch them together before rebounding off on our own separate making-endeavours.
I've tried (like maybe 28 times) to write about the show and what we're putting into it (clue: no head hair, although I've lost the great majority of mine trying to meet the deadline) but it all just sounds a bit shit (the writing. Not the art). Also, it makes for such bad reading "art and stuff and more!"
What I can say is that I'm not even near ready, but having seen a few of Giles' pieces in progress, I'm excited to the point that my own personal panic-dread is an afterthought, like this free-floating emotion that has my stomach clenching without any of the conscious thought for the cause of my gut's distress. Like white noise.
The point is, I'm not going to try to describe it. I'll fuck it up.
Anyway, the important bits:
Presented by Black Rat Projects
I'm Never Shopping Here Again - Giles Walker & Candice Tripp
Opening nights 28th & 29th of November - due to venue capacity we'll be taking bookings for the opening nights. For updates on when booking opens, please sign up to my or Black Rat's mailing list.
It's a free event.
Open to the public 30 November - 12 December
Mon - Sat: 12 - 6pm
Sun: 12 - 4pm
137 - 139 Lower Marsh Street
London
SE1 7AE