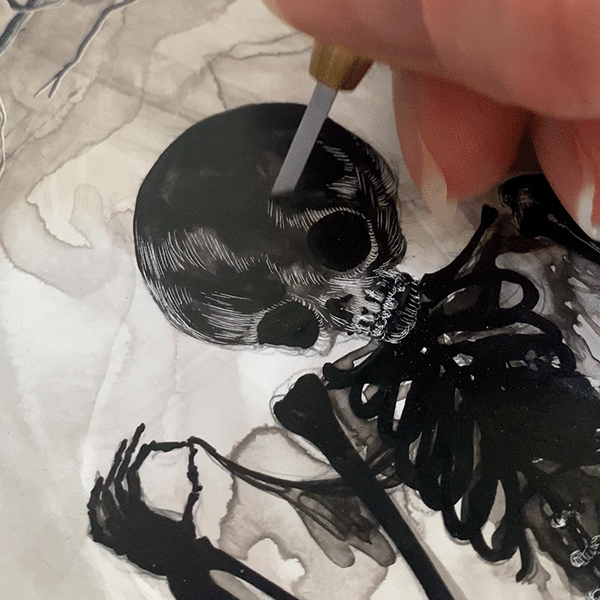 Look at this; I'm accounting for my time.
June 22nd heralded the start of days edging back towards an unseemly, early darkness.
Being at the hottest, brightest point of the parabolic arc has caused that smell-the-hedgrows joy of summer to curdle into an uncomfortable, too-tight feeling that I don't have a project waiting for me when we settle back into the gloom.
This is likely all underlined for me as I count the minutes of evening light I have to chase surf in and know that they are officially in decline. 
So; what have I got to show for the first half of this year and what will I do in the second part in a scrambling effort to make up for it?
I slipped, tripped and accidentally landed on a drawing that I thought would make for a good painting on scratchboard, which (shocker) I decided to use as a test for my first ever single colour screen print edition. This was never the plan, but in the absence of another, we're rolling with it. Fast.
Samples have been proofed, wheels are in motion and I'm really happy with how it looks.
I've also sent the "yes" email to adopt a small pop up space in Newcastle's Ouseburn for a week in mid December. 
With that, I've finally kicked into Drive and my pulse has quickened. It's that delicious panicky "what if it's shit?" GO time that fuels me better than cocaine or  a slow and steady commitment to a five year plan ever could. 
Before that, mere minutes before, I was still bouncing erratically between palm-sized projects whilst crying with the aimlessness of it all. My studio feels assaulted with mock-ups and trials and who gives a fuck because I feel better now.