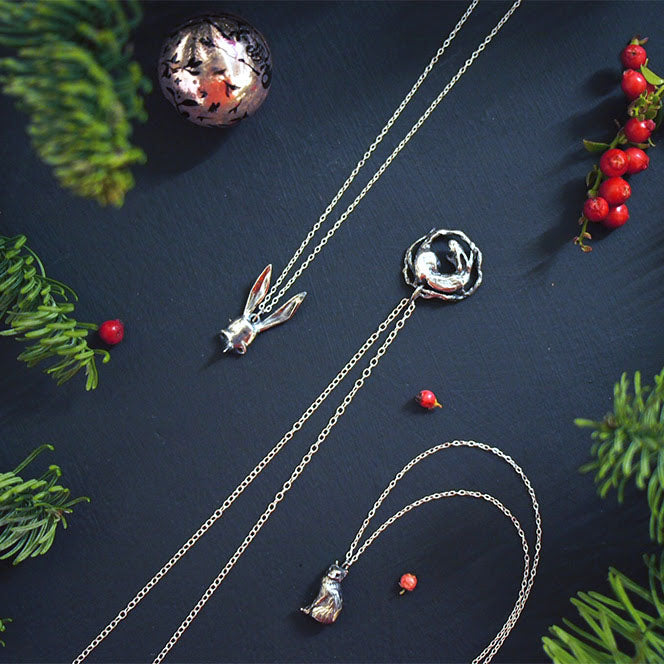 Free UK shipping this weekend
With 1 week left to get ready for Christmas, there's free UK shipping available all weekend. Use code SWEET-BABY-JESUS and place your order by midnighton Sunday.

That's the gift and delivery sorted but we're not quite there yet, are we? Don't worry! If you absolutely hate gift-wrapping, I happen to really enjoy it. Add it to your cart and jewellery boxes will be sent out wrapped in my own skeleton paper and tied with a matching black and white grosgrain bow.

If you're really pinched for time, you can add a note we'll ship it directly to the recipient.
Final Shipping Dates
International dates have officially passed but there's still time for UK deliveries:

21 December - standard shipping
22 December - special delivery

All orders placed this weekend will be shipped on Monday come rain or snow (preferably snow)

Thank you to everyone who has supported me on this jewellery gig. I don't believe I'd have been able to successfully launch it to such a supportive, welcoming audience if not for the years' of support you've all shown me and my art. The confidence to try such a thing certainly wouldn't have been there - so thank you for every like, share and comment that you take the time to make!

If you don't hear from me again next week, I hope you have a wonderful Christmas/win the family fight/manage to catch some zzzs/enjoy sitting in the cinema mainlining full fat Coke.

x Candice