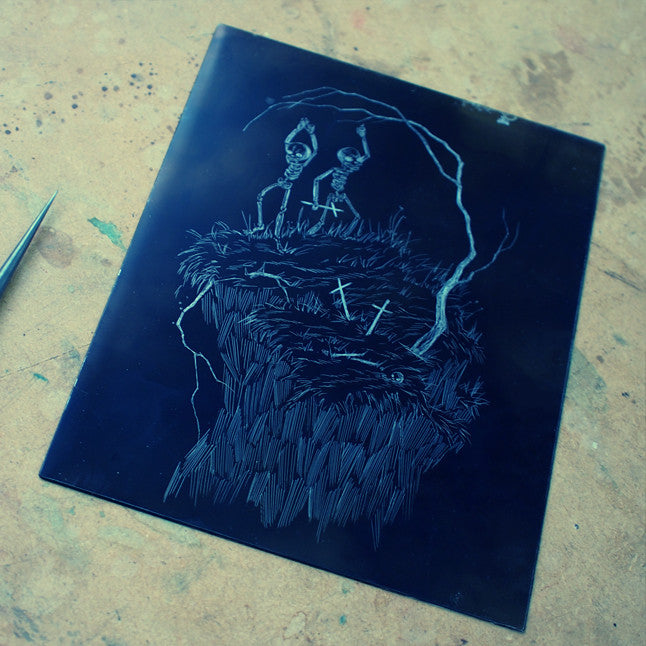 Blasting big news or making a small utterance of personal importance on every avenue of social media starts to feel a bit contrived if only for the repetition, for me and for you; but to anyone who doesn't follow me on instagram or who isn't on my mailing list, I wanted to say thanks for the enthusiasm for the Houses of Horror.
It started out as something small and turned into a much bigger thing- I didn't anticipate the response and want to say thank you because it made a little personal project a lot more fun than I ever thought it could be.
The month ran out sooner than my list of houses did- so if I don't return to them immediately, there will definitely be more in the future. I didn't forget Rosemary's Baby, I swear.
Coming up are a few group shows and a very small print release. Also; my first ever merch drop (that sounds, like, dead casual, right? Because I'm frankly shitting my pants about it)
About a month ago (what day is it? How old am I?) Black Rat took me to Goldmark Print studio, to open my eyes/mind to other possibilities in the world repetitive mark-making. It was brilliant. Ian, Jan and Callum are deadly cool and a total breath of fresh air- their approach to inviting artists to their studio alleviates any sense of anxiety. Jan said simply "if you fuck up, don't worry' and I thought 'these are my sort of people'.
So: next up is an etching. Here's a photo of my first; the test. This isn't the one we'll be releasing, but is proof that I've tried this shit and absolutely love it- I haven't yet decided which image to run with because, naturally, my desperation to do the best possible job has led to um, a blockage in the good-idea pipe. It has all of my attention right now and when it's ready to go, Black Rat Projects will have all the details.
In January I'll have a piece in a show curated by Stephanie Chefas at Modern Eden Gallery in San Francisco. For updates, please sign up to my newsletter... or I guess, watch instagram.
Finally, I'll be releasing a small run of silk scarves. They won't be limited, but Jesus, investing in your own product is daunting and frankly, something I've decided to do primarily for myself (as opposed to...relying on for profit) because I've got more Want than Confidence when it comes to having A Product.
I'll be using this to see 'if anyone gives a shit' and if they do, I'll happily do more. They're hand printed, hand rolled, 100% silk. The sample and following order took 4 months to happen. So yeah, a light silk scarf isn't exactly seasonal, but I got there in the end.
Full details to follow soon.